Does the Green Lantern superhero read Military & Aerospace Electronics?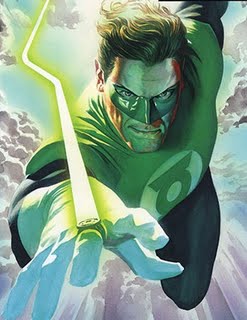 Posted by
John Keller
I know that
Military & Aerospace Electronics
is read by influential figures in and out of the aerospace and defense industry, but I never realized that our magazine also is the journal of choice for at least one superhero.
It seems the
Green Lantern
, a
test pilot
who is granted a mystical green ring bestowing him with otherworldly powers, as well as membership in an intergalactic squadron tasked with keeping peace within the universe, also is among our subscribers.
Hey, don't look at me; I was as surprised as you. I'm pretty sure the Green Lantern's Mil & Aero subscription is in a different name -- otherwise our circulation department would have let me know a long time ago, right?
Here's the deal: a summer action movie blockbuster is scheduled for release in June 2011, tentatively entitled
The Green Lantern
, that will have a plot along the lines of other recent movie releases that are based on comic book characters from DC comics, Marvel, and others -- you know,
Spider-Man
,
Superman
,
Iron Man
,
The Incredible Hulk
. This time, though Military & Aerospace Electronics just might have a bit part in the movie.
Production on the movie has begun, and set designers contacted me the other day asking for issues of the magazine. It's possible -- based on how the final movie is edited -- that issues of Military & Aerospace Electronics will be part of airport scenes in the Green Lantern movie.
We'll see how this develops.
Stay tuned.
The 2011 DOD budget is out, and the news is good
Posted by
John Keller
The Obama Administration's military budget proposals for next year are out, and I think we can all breathe a collective sigh of relief.
The aerospace and defense industry has spent months fretting about President Obama's
2011 defense budget
-- more out of uncertainty than fear. It is this proposed budget, far more than the one last year, that gives us our first clear indication of how the Obama Administration plans to treat defense spending, and the verdict is, better than we thought.
The Administration's
2010 DOD budget
request for the U.S. Department of Defense (DOD) last year essentially was George W. Bush's last defense budget. It wasn't until the 2011 budget proposal was released earlier this month that we see clearly how Obama wants to proceed with
defense spending
. The numbers speak for themselves.
The overall
DOD budget
is $708 billion, which consists of $549 billion in the discretionary defense budget, and $159 billion to support continuing military operations in Iraq and Afghanistan.
The discretionary DOD budget of $549 billion -- which includes proposals for military personnel, military construction, and family housing, in addition to military procurement, research and development, and operations and maintenance -- is an increase of $18 billion over the $531 billion enacted for 2010. This is an increase of 3.4 percent, or 1.8 percent real growth after adjusting for inflation, DOD officials say.
Those top-line budget numbers, fail to convey the real story for the aerospace and defense electronics industry. To do this requires us to look closely at DOD budget for procurement, as well as the budget for research, development, test, and evaluation (RDT&E), because these budgets largely deal with current and future military technologies.
The 2011 DOD procurement budget asks Congress for $137.48 billion, which is up only slightly -- 1.05 percent -- from current-year procurement spending of $136.06 billion, yet the trend is clearly going in the right direction -- particularly in light of concerns that the Obama Administration was looking to cut defense spending.
RDT&E is another story. The proposed military research budget for next year is $76.77 billion, which is down 5.13 percent from current-year spending of $80.92 billion, but was not as drastic a cut as it could be.
Now take a look at the combined procurement and RDT&E budget lines for military communications, electronics, telecommunications, and intelligence (
CET&I
) technologies. Next year's CET&I proposed budget is for $17.45 billion, which is an increase of 3.2 percent from this year's CET&I congressionally enacted spending levels of $17.45 billion.
All this is good news for the military electronics and electro-optics industries. It means we can be on solid ground as we plan for the future. Barring unforeseen circumstances, I don't think we are going to see substantial defense spending cuts over at least the next several years; there is simply not the political will to do so.
President Obama's agenda seems to revolve around domestic programs; for defense spending it's steady as she goes -- at least for now. If the Administration were intent on cutting defense spending, this 2011 budget was the one where this was most likely to happen, especially with a Democrat-controlled Congress that had appeared compliant to the Administration's wishes.
Now we're into an election year, and no one in the Administration or on Capitol Hill wants to rock the boat on defense spending and preparedness as we move closer to the congressional mid-term elections next November.
Again, barring unforeseen circumstances, we are not likely to see substantial increases in defense spending over the next several years, yet we are not likely to see major cuts, either.
So for all of you out there who have been in mental, political, and financial holding patterns, it's time to break out and start moving forward. I don't see any end in sight in the global war on terror -- ooops, sorry ... the "overseas contingency operations" -- which means we'll see a continuing solid market for advanced sensors, battlefield networking, optics and fire control, and many other new technologies that will be involved in counter-terror and counter-insurgency operations.
Everyone involved in the military technology business can get to sleep tonight, resting assured, that the Department of Defense is still open for business.
Ridge and Franks: Celebrate Presidents' Day, donate to Flight 93 memorial
Former U.S. Homeland Security Secretary Tom Ridge and General Tommy Franks, USA (Ret.), honorary co-chairs of the Flight 93 National Memorial Campaign, issued the following statement for Presidents' Day:
"What better time than Presidents' Day, when America celebrates those who have held its highest office, to remember the heroes who protected targets such as the White House or the Capitol from a terrorist attack? The 40 passengers and crew aboard United Flight 93 changed history on September 11, 2001 when they fought back to take control of their plane, diverting it from its intended targets, and crashing into the remote fields outside of Shanksville, Pa.
"We are making great progress on this important memorial. With the groundbreaking behind us and the first construction contract awarded, the memorial has entered a new building phase that will culminate with its dedication on September 11, 2011.
"More than 57,000 donors - both large and small from across the nation and around the world - have raised over $17 million for the memorial. Another $28 million in public funds are expected toward the estimated $58 million cost of the memorial's first phase. We hope all Americans will consider lending their support and building on the growing momentum for this important symbol of our democratic values on this key national holiday.
"Like some of our greatest presidents, the heroes of Flight 93 risked all and gave all to protect and preserve our freedoms. Americans can appropriately honor these heroes and ensure their actions are remembered by helping to build the Flight 93 National Memorial."
The Flight 93 National Memorial is the only national park unit dedicated to the events of September 11, 2001. The memorial park sits on 2,231 acres in Somerset County, site of the plane's crash, approximately 80 miles outside Pittsburgh. The memorial will include the final resting places of the heroes as well as visitor facilities and related infrastructure.
For information on how to contribute to the memorial, visit www.honorflight93.org.